How to Create the Perfect Kitchen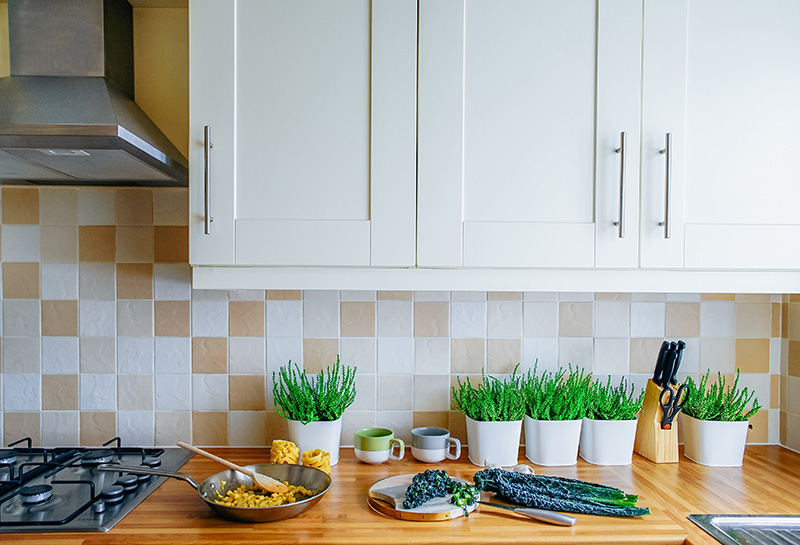 You're working hard to bring home good food and purge that pantry so keep the momentum going by creating an efficient kitchen.
Start with the Basics
Small pantry
Refrigerator/freezer bags—many Primal enthusiasts appreciate having a chest this is the Amazon link for freezer bags to store larger quantities of meat and other foods
Cast iron cookware
Wooden stirring spoons and spatulas (avoid composite cookware due to chemical residue concerns)
A robust spice rack
A crock-pot or Dutch oven can be a useful tool for preparing large quantities of meat, soup, stews, and chili that can be frozen for future meals. Better yet, get an Instant Pot. It's a game changer when it comes to saving time in the kitchen and it can actually replace 7 other appliances!
A blender is a great option for making quick smoothies or nut butters
 Glass and stainless steel storage containers of various sizes help you store and transport food purchased in bulk, or meals made with leftovers in mind (crockpot soups, stews, roasts), etc.
Add Some Fun Gadgets
  Food dehydrator (great for drying fruits and veggies and making jerky)
  Food processor (a mini one is great—investigate a blender attachment)
  Mandoline (makes super thin veggie slices—great noodle substitutes)
  Pressure cooker (fast-cook soups, stews, and large cuts of meat)
  Immersion blender (instant blending of soup, batter, and smoothies)
  Thermometer (targets rare, medium, or well-done).
Removing inflammatory foods from your pantry and fridge will make your kitchen look much more streamlined—no more pasta, rice, flour, cereal, boxes of grain-based snacks, jars of polyunsaturated oils, or sugary sauces and condiments.
Add in Some Staples
These are some of our favorite kitchen staples and lifestyle practices:
Butter: Great for eating or cooking. Other animal fats such as ghee (clarified butter, a terrific option for the particularly lactose sensitive) lard, tallow, and even recycled bacon grease, are excellent to use for frying.
Avocado Oil: This is great for high heat cooking while keeping inflammation down.
Coconut products: Coconut oil, milk, butter, flour, and flakes offer outstanding health benefits and versatile use for cooking, blending smoothies, and replacing inflammatory oils or wheat flour in most recipes. It's high in medium-chain fatty acids, which are rare in our modern diet and offer a variety of health and disease protection benefits.
Coconut Aminos: Great, gluten free substitute for soy sauce.
Extra-virgin olive oil: Great for salads, on vegetables, and other direct consumption. It can tolerate low-temperature heating only, so do more involved cooking with coconut oil or animal fats.
Cookbooks: Get some creative ideas and learn how to replace virtually every inflammatory staple with a healthy alternative. We love this option by Jennifer Robbins.
Five favorite meals: Rotating through your favorite basic meals. Make these ahead and portion out or freeze.
Fresh foods: Strive to eat most of the food you acquire in less than a week.
Snacks you love: Surround yourself with nourishing snacks so that you never suffer, struggle, or go hungry.
Get Started
Pinterest is a wealth of information, too! Check out our favorite recipes and other topics by following us here. What is one way you can set your kitchen up for success right now?
This post may contain Amazon affiliate links which give us a nominal percentage of your purchase at no additional cost to you.